Newsletters
Conondale Range Conservation have published newsletters that are available here.
This Newsletter includes -
 Yabba National Park
 Presidential Ponderings
 Farewell Wyn Boon
 Meeting with Minister about Yabba NP
 Vale Les Hall and John Sinclair
 First BioBlitz at Mary Cairncross
 Special wildlife reserves
 Mapping Yabba National Park proposal
 Indigenous significance of Yabba country
 Cooloola BioBlitz
This newsletter includes:-
Vale Heather Harford
Presidential Ponderings
UNESCO rejects bid to de-list Tasmanian Forest
Jenifer Simpson received OAM
Charlie Moreland camp ground has a makeover
New Course for this year's Brownwater Classic
This newsletter includes:-
National Parks under threat
Presidential Ponderings
Young boat builder scoops the pool in this year's Brownwater Classic
Mt Allan Firetower closed
World Environment Day 2013
Noosa Festival of Water 2013
Ecoflicks Award
This newsletter includes:-
Extinct frog hops back into the gene pool
Presidential Ponderings
Park Updates
A Spot of Frogging in the Conondales
Dam Folly
Sunday Creek Road to Jimna re-opens (briefly)
Trail Bike Riders trash walking track (once again!)
Mary River Festival looks to make a big splash in 2013
This newsletter includes:-
Marbled Frogmouth a threatened local
Presidential Ponderings
Poets' Breakfast a great success
Mining Exploration Permit (EPM) Walli Project
Cat's Claw Creeper
It's Mary River Festival Time!
Connection Road Corridor
This newsletter includes:-
He left his Mark on the Conondales
Presidential Ponderings
Creek Crossings prevent 4WDs visiting Conondales
Glossy Black-Cockatoo
Mike and Sue Jess hand over reins of Off Beat Tours
First films take out Ecoflicks awards
Mary River Festival looks for volunteers
Des Ritchie recognised with OAM
This newsletter includes:-
Working Bee Summer Falls Camp
Posselt's Paris Paddle for the Environment
Charlie Moreland Upgrade
2015 Poets Breakfast 
This newsletter includes:-
Agricola MIne Site Update
Integrity of National Park System Protected
Queensland Ensures Environmental Clean-ups
Vale Eric Glassop
This Newsletter includes: 
Fourtieth Anniversary of Conondale Range Conservation
Presidential Ponderings
Agricola Mine-site rehabilitation
Draft QLD Protected Area Strategy
A Wonderful National Park Opportunity
Yabba Creek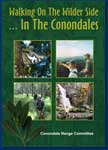 Walking on the Wilder Side
.. in the Conondales.
A new book of history, information, walks and activities for the Conondale Range region

Buy a copy
Reviews