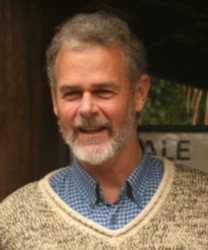 Mark Ricketts 1955 - 2011
Well know Bush Poet and long time friend of Mark, Ian Mackay composed and then read this poem at Mark's memorial at Old Witta School near Maleny, on Saturday 14 May 2011
He left his Mark (Vale Mark Ricketts)
There's one bloke who should be here
To see you lot, colourful and bright;
Wish I could beam him in on some video link,
Sky Channel, perhaps'd be right.
It's just not right that he isn't here,
He could help to "un-bereft" us;
I know I'm calling for a resurrection,
Well…. it was Good Friday when he left us.
How the weeks since then we've struggled,
Disbelief and loss, no chance for thanks;
Then the stories come….. like a set out the back,
And we're smiling, laughing, brought together in our ranks.
But if resurrection were to happen,
Even just for this hour or two;
I know he'd be horrified to see us sad,
"Shit happens," he'd say, " it's not new."
He's say there was nothing surer
Than one day we'd meet our end,
Back to star dust, back to earth dust,
Leaving us as a friend.
There wouldn't be one here among us
That he didn't inspire, you know;
And if "inspire" means to breathe right in,
Then he's still with us … and so
That's how we must face the future,
Take on board his warmth and his wit;
We'll never do it as well, mind you,
But recycle it,…. every bit.
And when we turn our eyes outward, to trace his steps,
From Emu Mountain to Conondales Park,
His environmental legacy's writ loud and clear,
……….he truly left his Mark.
And he's left his Mark on all of us,
And for the better, it's surely true;
A one-off, that Mark Ricketts chap,
……..A one-off we're all glad we knew.
Ian Mackay May 2011