Heather Harford
Heather Harford was our first secreatary.
The Conondales owe a great debt to Heather Harford, or Heather Petersen as she was then.
She became aware of environmental issues when local farmers were frequently spraying chemicals and hormones on their crops which resulted in massive soil loss on the surrounding farms.
The articles within are in remembrance of a great contributor and her work for the environment.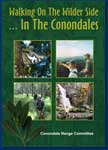 Walking on the Wilder Side
.. in the Conondales.
A new book of history, information, walks and activities for the Conondale Range region

Buy a copy
Reviews