SCEC wishes to share this tribute to Mark Ricketts, a long time environmentalist, former SCEC project officer and a long standing member of our management committee.
Mark Ricketts 1955-2011
On Friday April 22 the planet lost a dear friend, and so have Australia, Queensland, the Sunshine Coast and the Sunshine Coast Environment Council. The following is a small tribute to Mark Ricketts, a unique individual who is, and will continue to be very sorely missed by us all.
Mark was the project officer for SCEC from 1987 to 1991. Mark always showed a rare gift of combining big picture insight and sensibility with a remarkable sense of humour. Even when he was not directly involved with SCEC, he still provided behind the scenes mentoring to our staff and could be counted on to cast a critical eye on our doings, which he never hesitated to voice.
But his rare critiques were always made with our best interests in mind, and he was among the first to find a word of praise, and to even do hard physical slog when we needed it at times. He never complained, and often would drive back and forth from Brisbane to Maleny and still manage to come to meetings in Nambour or to help us out as needed. His wonderful, laid back sense of humour was often just what was needed to smooth ruffled feathers, and he provided an excellent role model to many budding environmentalists.
He first ventured into the environment movement by becoming active with the Conondale Range Committee, and became their delegate to SCEC. He then began to get involved with SCEC when it was operating from the back of the Sunshine Coast Environment shop, and helped with the big shift to the old Meeting Place premises. He became SCEC's project officer after Karen Robinson left to work at the Wilderness Society. Elaine Green was editor of Eco Echo magazine, and then SCEC's president, and they worked along with Des Ritchie and others to continue the building of SCEC.
Though back then Mark was not computer literate, he was instrumental in introducing himself and SCEC to something very novel back then, an Apple personal computer! During those years, Mark and SCEC were very active in the Emu Swamp campaign (his renowned wit came to the fore here, labelling a proposed fun park 'The Big Rocket' which went far towards bringing down the proposal), and in halting the building of Stage 2 of the Sunshine Motorway through the sensitive wallum of Emu Swamp and Lake Weyba right into Noosa. He was perhaps proudest to see the establishment in 1992 of a national park in his beloved Conondale Ranges. He was instrumental in creating the Maroochy Strategy, later used as a model by other councils. Also in 1990 he and Elaine Green devised the model of a truly participatory process with stakeholders from diverse organizations through their 2020 Vision Conference. This ground-breaking participatory process has became a model for conferences by other organisations.
He imparted a political vision to SCEC which has carried on ever since: being a training ground for environmentalists to move on into broader fields, and to provide feedback to the public about the environmental commitment of parties and individuals in government at election time. In a three part interview in SCEC's Eco Echo 1996-1997, Mark foresaw the battle ahead for the Pumicestone Passage which he said was being subjected to a death of a thousand small cuts. He was most certainly ahead of his time not only in predicting the problems ahead for the Passage, but also in his political views regarding the redundancy of state governments. Mark remarkably predicted 15 years ago how globalisation, consumption, and population, combined with over dependence on mining exports were going to impact our economy.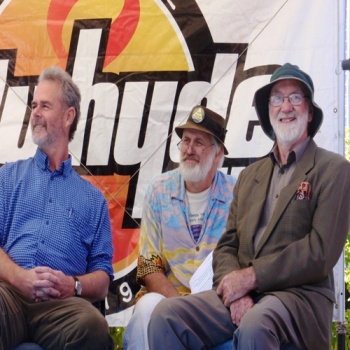 In 1991 Mark left SCEC to work in Brisbane as a public consultant in the Department of Environment and Heritage. There he drafted and set up the consultation process for the first pollution control strategy and the Environment Protection Act. Mark then became the Environmental Advisor to the Mayor of Brisbane Jim Soorley. In 1998 he became the purchaser and policy manager for Brisbane City Council's waste services. During this time the largest and some of the most innovative waste contracts in the southern hemisphere were awarded. He was a member of the SCEC Management Committee before leaving Australia in 2006 to become SPREP's Solid Waste Officer in Apia, Western Samoa. Leaving Samoa in 2008, he continued to work as a freelance consultant in solid waste management and minimisation and in recent times he rejoined SCEC's management committee. During this past year he has worked as waste management consultant in the Sunshine Coast Council.
Mark was very attached to the pristine beauty of the Sunshine Coast hinterland and lived on a private, forested property near Maleny. But he also loved the sea. He was a surfer from a very early age and later surfed and sailed in many parts of the world.
Mark's footprint is everywhere in the Sunshine Coast environment movement and history, and he leaves behind a legacy of vision, action, generosity of spirit, and enthusiasm that never flagged for a minute. While we are bereft, we also have been inspired, and his influence on what SCEC is today lives on in its philosophy and its very being. He told us to never lose our sense of fun in what we do, and he certainly never did. He lived his life fully and with great love for everyone and for the environment that he embraced.
Mark is survived by his wife, environmentalist and writer Elaine Green Ricketts, and our love and our fond memories of this wonderful man go out to her.

Dr Valerie E Lewis
President
Sunshine Coast Environment Council
MEMORIAL SERVICE SATURDAY 14TH MAY.
Friends of Mark may contact Sunshine Coast Environment Council for further details on: 5441 5747 or email: This email address is being protected from spambots. You need JavaScript enabled to view it.