Contributors to Book
Many Conondale Range Committee supporters and field experts have contributed to the publication 'Walking on the Wilder Side ...in the Conondales'. Parts of this book are used in this website, and have been edited and abbreviated to provide a general overview of the Conondale Ranges, the committee and the book.
Book Contributors:
Dr Aila Keto
Ian Mackay [general text, Jimna, forest drive, Agricola Mine]
Greg Czechura [Raptors, mammals, snakes, lizards, pests]
Greg Roberts [Birds]
Adrian Borsboom [Crayfishs]
Geoffrey Smith [Plumed Frogmouths]
Les Hall [Bats]
Glen Ingram [Frogs]
Elaine Green [Flora]
Shirley Moreland [Early History]
Richard Giles [CRC campaign]
Bob Miller [Butterflies]
Dave Phillips [Mountain Biking]
Chery Seabrook [general text, walks, mammals, snakes, lizards pests]
Principal Photographer:
Other Photographic Contributors:
Cheryl Seabrook
Arkin Mackay
Chris Corbin [Freshwater Crayfish]
Additional text & editing for website:
The book, 'Walking on the Wilder Side... in the Conondales', and this website content is copyright, and no part may be reproduced without written permission from the authors.
The Queensland Government's Department of State Development and Innovation provided funding to Sunshine Coast Environment Council to produce this web site through the South East Queensland Forest Agreement Tourism Initiative in 2003/04.
Links
Topical Issues - Proposed Traveston Dam, Mary River
Environmental
Environmental Projects
Touism / Recreation
Local Business / Information
Website Design & Development
To submit your website for possible inclusion in this list, please send information to:
This email address is being protected from spambots. You need JavaScript enabled to view it.
Get Yourself some CRC Gear
A new book of information, walks and activities for the Conondale Range region... OUT NOW
Most of the information in this website is based on the book... which features articles written by field experts on local flora, fauna, and history.
Not to mention a comprehensive walks section compiled by experienced bushwalkers, maps, camping guide, and invaluable local knowledge.
$20
[inc. p&h within Australia]
see below for list of retailers stocking the book
Support the Conondale Range Committee..
Wear a T Shirt!
The Marbled Frogmouth can now relax in the Conondale National Park
It's taken 25 years!
Sizes: S, M, L, XL, XXL
Colours: Brick, Lilac, Yellow, Jade, Black
$25
Still.... Watching Over the Conondales
Sizes: S, M, L, XL, XXL
Colours: Marle, Natural, Bottle Green, Navy, Berry
$25
* Some Tshirt sizes or colours may not be available when you order. We will contact you for your second choice.
To order any of these items:
Download the Order Form
[requires PDF reader, ie. Adobe Acrobat Reader]
Print
Complete form
Post with cheque/money order to
PO Box 150 , Kenilworth, Qld, AUSTRALIA 4574
If you have any problems obtaining this form,
email This email address is being protected from spambots. You need JavaScript enabled to view it. for assistance.
Books are also available from the following retail outlets:
Barung Landcare, Maleny
Kenilworth Information Centre
Maple St Coop, Maleny
Rosetta Books, Maleny
Coop Bookshop Sunshine Coast University
Fairhill Native Plants, Yandina
Museum Explorer Shop, Cultural Centre, Southbank
Bellbird Creek Teahouse, near Kenilworth
Join the Conondale Range Committee!
There is no bigger threat to our environment than people's sense of powerlessness and their acceptance of the inevitability that change will be adverse.
"You can't stop progress" they say.
Yet there is no statement more true than 'United we stand, divided we lie horizontal'.
In the '60s and 70's, the whole area of the Conondales was earmarked for clear felling and converting to forestry plantations. It's only due to our collective voices over almost 40 years that it lives on as it does.
Join us and be part of the people still watching over the Conondales. You can be as active as you wish. Simply stay informed by receiving newsletters, if you like, or be more involved.
Remember, "No one made a greater mistake than he who did nothing because he could only do a little [Edmund Burke]" and 'The most powerful wave in the ocean... is just a lot of drips... moving in the same direction.'
Membership
Concession $18 /yr
Family/Single $20 /yr
To become a member:
Download the Order Form
[requires PDF reader, ie. Adobe Acrobat Reader]
Print the form
Complete form
Post with cheque/money order to
PO Box 150 , Kenilworth, Qld, AUSTRALIA 4574
If you have any problems obtaining this form,
email This email address is being protected from spambots. You need JavaScript enabled to view it. for assistance.
Member Testimony
Personal Testimony
"Back in the early '80's, I didn't live on the Sunshine Coast, but, having purchased land in the hinterland, subscribed to a little alternative newspaper The Sunshine News, out of Maleny. It's editor was Richard Giles who also happened to be the Project Officer for the Conondale Range Committee. He wrote so compellingly of the Conondales and the impassioned battle to conserve their wonderful biodiversity that I resolved to become a member when we moved to the area in 1983. Little did I know then of the momentum generated by like-minded people in a changing atmosphere of community support. Nor did I realise that, some years on, I would be part of the group celebrating the extended National Park, the mine rehabilitation or the historic Forest Agreement. It really does seem to me that the meek won't simply inherit the earth but that they have to be prepared to put up a fight for it."
Ian Mackay, CRC President since 1990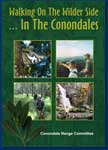 Walking on the Wilder Side
.. in the Conondales.
A new book of history, information, walks and activities for the Conondale Range region

Buy a copy
Reviews